Manatee County is a wonderful place to visit and vacation, but there are many reasons that you would want to stay and establish roots with your family here in this wonderful slice of Florida.
Let's talk numbers. Manatee County, Florida saw nearly 3.1 million tourists in 2016, which was a 2.7 percent increase over the 2015 tourist numbers. Along with population growth and job creation, this is a boon to the economy which means that not only is Manatee County surviving it is thriving in the ever changing economy. In fact, The Manatee-Sarasota region is the only metro area in Florida with faster employment growth in 2016 than in 2015, the unemployment rate is lower than the national average, the projected job growth rate is higher, and need I mention that there is no income tax?
You can't beat the weather! Manatee County, on average, enjoys over 300 days of sunshine every year. The average temperature is 73.3°, an annual high temperature of 82.3° and and annual low temperature of only 64.4°, making Manatee County very desirable just for the weather alone. There is no snow here!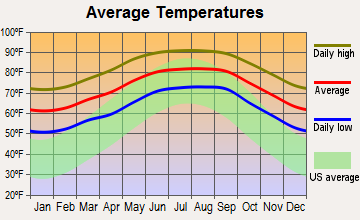 Love of the Arts- Right in downtown Bradenton is a community dedicated to the Arts. You could choose to become a part of this community, living among other artists or you could visit and enjoy the shops and amazing atmosphere the neighborhood offers. With exhibits, artwalks, healing & wellness centers, dining and more you will not leave wanting. Not only is this community a great place for artists, all around Manatee county you will find many unique art shops, classes, and events and festivals throughout the year. There is always something to do!
There is also the Manatee Performing Arts Center in Bradenton and The Island Players on Anna Maria Island offering a multitude of shows every year, summer camps and internships.  These are great opportunities for the performing artist(s) in your family!
Food? Yes, please! From dock-side to fine dining and everything in between, Manatee County has the foodie in you covered! Tripadvisor can help you find exactly what you are seeking, click here to take a peek at the many great dining options Manatee County has to offer!
Are you an avid golfer? Manatee County is not lacking in options for your golf needs, whether seeking a public course or a private course there are over 2 dozen for you to choose from! Maybe you are new to golfing, or looking to learn, there are plenty of instructors as well that range from junior instruction, adult instruction to refresher courses. Take a look here to find an instructor that meets your needs.
Is being on the water more appealing to you? Perhaps you are looking for a relaxing walk on the beach, or looking to cast a line and see what you can hook? There are 5 parks along the gulf that offer beach access, amenities (washing stations, bathrooms, pavilions, etc), you can also drive along the coast to find more private locations. Manatee County has a great government website to help you find exactly the park for you, just click here to find out more. The Bay's in Manatee County have a lot to offer as well for the fishing and boating enthusiast! Salt Chef has compiled an extensive list of fishing locations, and resources for you to utilize. Take a look here for more information and to start planning a fishing trip. Could you imagine doing this after work or any day that your heart desires?
Live, work, and play in Manatee County!